Our ESG Philosophy
Neuberger Berman has a longstanding history of responsible investing and considering environmental, social and governance factors as important drivers of long-term investment returns from both an opportunity and a risk mitigation perspective. We also understand that for many of our clients the impact of their portfolio is an important consideration in conjunction with investment performance.

As such, we believe that material ESG factors, like any other material factor, should be incorporated in the investment decision-making process. There are various ways to integrate ESG considerations to help generate enhanced returns as well as to implement non-financial objectives within a portfolio. NB believes its approach to doing so not only benefits its clients, but can also support better-functioning capital markets and generate positive impact for people and planet as a whole.

On this basis, NB has defined an ESG Policy which provides a broad framework for its approach to ESG integration. The Policy is reviewed annually by the ESG Committee and Neuberger Berman's Board of Directors, which is responsible for overseeing NB ESG integration efforts, setting goals, and reporting on the firm's performance. The Policy applies to all asset classes across the investment platform, including equities, fixed income and private markets, and is intended to provide a broad framework for our approach to integrating ESG factors into investment management.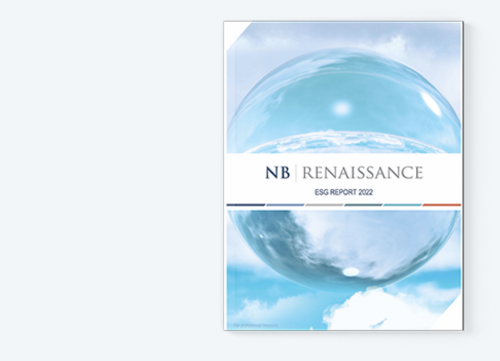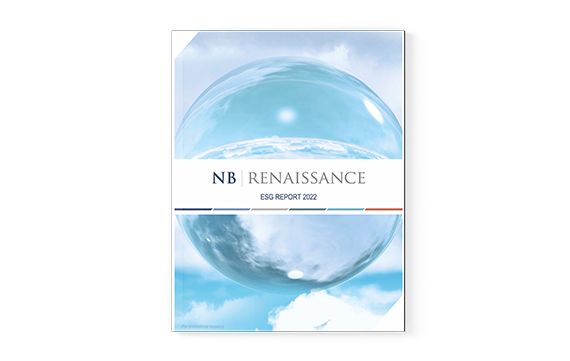 Read our NB Renaissance 2022 ESG Report
Learn about how we are building responsible businesses and creating value through ESG. View online
Download PDF
NEUBERGER BERMAN ESG INTEGRATION FRAMEWORK
CLIMATE-RELATED FACTORS
Neuberger Berman is committed to integrating climate-related factors into its business and investment risk assessments. In line with voluntary disclosure recommendations of the Financial Stability Board's Task Force on Climate-related Financial Disclosures (TCFD), NB's climate-related Corporate Strategy covers investment risk and opportunity, as well as the operational resilience of its business. NB's Board of Directors oversees climate-related risks as a subset of all enterprise-wide risks. The Board reviews climate-related enterprise risk and the firm's approach to climate-related risks and opportunities at least once a year. Furthermore, NB have joined the Net Zero Asset Managers Initiative, and committed to investing aligned with net-zero emissions by 2050 or sooner.
The strategy is based on three core pillars:
Climate-related Risk Management
Integrating climate-related risks into the overall risk management framework across investments and business operations
Climate-related Opportunities
Identifying attractive investment opportunities related to climate change and innovating new investment solutions for clients
Communicating Metrics and Targets
Communicating to clients and stakeholders about climate-related risks and opportunities, including monitoring and reporting relevant metrics and targets.
Pre-Investment
Five Areas of Analysis Included in our Investment Evaluation Process
---
If potentially material risks are identified in the initial phase of due diligence, we would further conduct specific ESG due diligence with the assistance of specialised, tier-one consulting firms. We seriously consider material ESG factors to be an important component of investment decision-making, as such material unmitigated risk constitutes a "no-go" for an investment. In case we identify ESG risks that are inherent to a particular sector and we believe these are managed appropriately, then the opportunity may be considered for investment and the residual ESG risk would be factored into our valuation of the company, just as it would be for any other material business risk.

NB Renaissance' portfolio is made of either global leaders in sector niches with high levels of innovation, customisation and service or local leaders with sustainable competitive advantages. Our portfolio has a well-diversified revenue base and strong exposure to resilient sectors: specialised industrials, sustainable specialty chemicals, IT & software, and business services.

Since its establishment, NBR has actively promoted the integration of sustainability best practices across its portfolio, as demonstrated by a number of its portfolio companies that have already embarked on a path of long-term commitment to sustainability.
HIGHLIGHT OF PORTFOLIO COMPANIES
100%
of portfolio companies publish
a Sustainability Report
65%
of portfolio companies adopted an
Environmental or H&S Management System certified according to UNI EN ISO 14001 and ISO 45001 standards
100%
of portfolio companies have adopted
a Code of Ethics
€66 million
spent by the portfolio in 2021 for
R&D
100%
of portfolio companies have adopted
the Organizational, Management and Control Model in compliance with Legislative Decree 231/2001
>800 people
in portfolio companies dedicated to
R&D
NEUBERGER BERMAN PLATFORM AT A GLANCE
80%
of firm assets are ESG-integrated
100%
of firm assets are ESG-aware
150
colleagues in ESG across committee and working groups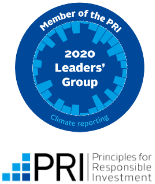 Neuberger Berman Named to 2020 PRI Leaders' Group
Neuberger Berman Named to 2020 PRI Leaders' Group
Neuberger Berman was named in the 2020 Leaders' Group for our efforts to assess, manage and disclose climate risk and opportunity across our investment strategies. Only 20 asset managers were awarded this designation of the 2100+ investment manager PRI signatories.
1
READ FULL PRESS RELEASE
Neuberger Berman's PRI Assessment Scores
In our 2021 PRI Assessment, we obtained the highest possible scoring1 across all categories for our approach to ESG for the third year in a row.
In the current reporting cycle, the PRI adopted a new, more stringent assessment methodology. Neuberger Berman earned 5 Stars across every asset category in which it reported and rated above the median in every category. In addition to scoring the best possible ranking across all asset classes, the firm also obtained the highest possible score in PRI's new private debt category and its overarching Investment & Stewardship Policy category.
2021
Neuberger Berman
Median of All Reporting Signatories
Investment & Stewardship Policy
5 Stars
3 Stars
Direct
Listed Equity – Active Quantitative – Incorporation
5 Stars
3 Stars
Listed Equity – Active Fundamental – Incorporation
5 Stars
4 Stars
Listed Equity – Voting

5 Stars

3 Stars
Fixed Income – SSA

5 Stars

3 Stars
Fixed Income – Corporate
5 Stars
3 Stars
Fixed Income – Securitized
5 Stars
3 Stars
Fixed Income - Private Debt
5 Stars
4 Stars
Indirect
Private Equity
5 Stars
3 Stars
See Neuberger Berman's Historical PRI Assessment Scores
1For illustrative and discussion purposes only. PRI grades are based on information reported directly by PRI signatories, of which investment managers totaled 3,404 for 2021, 1,924 for 2020, and 1,119 for 2019 . Note that scores for the 2021 reporting cycle cannot be compared to previous years due to the change in PRI assessment methodology. Unlike previous years, the indicator scores are assigned one of five performance bands (from 1 to 5 stars) instead of six performance bands (from A+ to E). All PRI signatories are eligible to participate and must complete a questionnaire to be included. The underlying information submitted by signatories is not audited by the PRI or any other party acting on its behalf. Signatories report on their responsible investment activities by responding to asset-specific modules in the Reporting Framework. Each module houses a variety of indicators that address specific topics of responsible investment. Signatories' answers are then assessed and results are compiled into an Assessment Report. Neuberger Berman pays a fee to be a member of PRI and the grades are only available to PRI members. Ratings referenced do not reflect the experiences of any Neuberger Berman client and readers should not view such information as representative of any particular client's experience or assume that they will have a similar investment experience as any previous or existing client. Awards and ratings are not indicative of the past or future performance of any Neuberger Berman product or service. Moreover, the underlying information has not been audited by the PRI or any other party acting on its behalf. While every effort has been made to produce a fair representation of performance, no representations or warranties are made as to the accuracy of the information presented, and no responsibility or liability can be accepted for damage caused by use of or reliance on the information contained within this report. Information about PRI grades is sourced entirely from PRI and Neuberger Berman makes no representations, warranties or opinions based on that information.
To read more about Neuberger Berman's Historical PRI Assessment Scores, please visit nb.com.
INDUSTRY ENGAGEMENT
We recognise that we have a responsibility to improve the functioning of capital markets as a whole by encouraging the broader implementation of ESG investing activities. We believe this can best be achieved by working collaboratively with clients and others in the investment industry, including by engaging with individual companies and whole industries, conducting joint research on ESG topics, and supporting the creation and use of industry-standard ESG disclosures.

We are a strong supporter of sustainability initiatives in investment markets and are active in the following industry-wide initiatives:



Company Name
Investment Year:
OriginationDate



Company Name
Investment Year:
OriginationDate



Company Name
Investment Year:
OriginationDate


Company Name
Investment Year:
OriginationDate

Company Name
Investment Year:
OriginationDate